Dutch mayday pie actions! [28 april]
see photo's below
This morning two pie-ings took place at the same time but actually completely not-coordinated!
Dutch EarthFirst! (GroenFront!) activists pied M. Hart-Nibbrich, the chief spokesperson of the Betuweline Project. The 'Betuwelijn' is a planned cargo-railwayroute between Rotterdam (World's largest port) and the Ruhr Area (Europe's largest industrial area). It's the fifth project in Trans European Network System (TENS). Originally budgetted at about five billion euro's, it's calculated to now cost up to ten billion. The Betuwe is the region/valley of the Maas and Rijn rivers. The Betuwelijn is a symbol for useless projects forced onto the people by the capitalist upperclass and lobby of 'Netherlands Distribution country'. A lot of nature will have to disappear and already rare animals are being threatened. Of course an increase of transport will also increase pollution.
Direct incentive for the pie-ing was the courtcase against ten Betuweline activists. Eight were fined 300 euro's (for tresspassing), two 450 (for public violence). The district attorney isn't satisfied and is appealing, set on imprisonment (although three had been imprisoned for eight days allready).
A second pie-ing took place by the Leiden anarchist collective Eurodusnie. The victim was Driek van Vught, 20 year old member of the Dutch senate for the Socialist Party. He was dealing out 'red cards', of which he gave one to Eurodusnie because they were, according to him, responsible for emergency police measures in Leiden to 'protect' Queen Beatrix, who is coming to Leiden tomorrow. Media have speculated Eurodusnie's participation in Comite March on the Oranges (royal family), organising an antinationalist party tomorrow, linked to anticapitalist MayDay global day of action. One of these measures is a complex card-entry-system for the inhabitants of Leiden's inner city (which is quite pretty by the way, the inner city I mean). Driek really misses all insight in the matter though - the Queen is the motor on neat new repressive bills and measures, such as equipping police with pepperspray besides cs gas. Dutch police have bought some very nice new large cs gas grenade launcher machines by the way, also very suitable for indoor use! But of course, these will only be used on fire-dangerous criminals. Well, don't give the anarchist his sigarette!
MORE MAYDAY ACTION IN THE NETHERLANDS
sat 29A 11.00h March on the Oranges (royal family), anticapitalist
party for the people, Hooglandsekerkgracht Leiden. beakomt@squat.net
In the evening a gig at Boerhavelaan 345.
sun 30A 14.00h, May 1st and on, multiple day action rave against
asfaltcapitalism, meeting point Boerhavelaan 345. mayd@dds.nl
mon M1 14.00h, anticapitalist action vs.temp employment agencies,
oudegracht 229 Utrecht. utrecht@dwars.org.

WEBSITES (English as well)
http://www.antenna.nl/bn/mayday
http://squat.net/beakomt
http://www.antenna.nl/nvda/groenfront




(click the photo's to see them larger)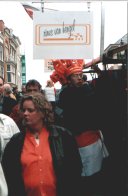 * Driek sighted on Queensday 2000!